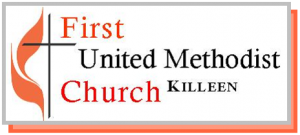 Our Mission: To Make New Disciples of Jesus Christ for the Transformation of the World
Sunday Worship:
7:45am: Heritage Service
9:30am: Praise Service
11am: Traditional Service

Church Office:

254-634-6363
254-634-6363
This week (28 June) we continued our sermon series: Life, Liberty, and the Pursuit of Happiness. This week, Pastor Jeff discussed Liberty, specifically on how God's great love and forgiveness frees us from the oppression of sin.
Daily Readings for Week of 6/28-7/4
Mon: Isaiah 58:6-8
Tue: Isaiah 61:1-4
Wed: Galatians 5:1, 13-16
Thu: Galatians 5:16-21
Fri: Galatians 5:22-25
Sat: Psalm 119:33-40
Welcome to First United Methodist Church Killeen!
I want to personally welcome you to First United Methodist Church. We are a United Methodist Community of faith in Killeen, Texas. We take a "grace-based" approach to reaching those who like to ask questions, are a bit skeptical of easy answers, and are open to the journey of discovering truth.
We invite you to be our guest on Sunday morning and join us for some great music, relevant preaching, and meaningful fellowship that just might be the best hour of your week.
FUMC Killeen has a four-fold focus:
To nurture people in faith through small group interaction.

To relieve suffering through outreach to our community and the world.

To witness to our faith through our words and actions.

To offer meaningful and passionate worship.
If you are not involved in an area church–maybe you've even been turned off by churches or Christians in the past–we hope you will consider being our guest. You may just find this church is right for you.
Pastor Jeff Miller
Senior Pastor