Thanks to everyone who came out for this fantastic event!
We were able to welcome over 750 guests over the weekend, and want to send a big thanks to everyone who assisted with this event.

Our annual Bethlehem Village is a walk-thru living nativity village with activities, story stations, animals, food and more, all setup like the city of Bethlehem during the time of Jesus' birth. This family event is open to the entire community and is completely FREE!
The Bethlehem Village will be open TWO DAYS ONLY on December 7th & 8th (Saturday & Sunday), from 4-6 p.m., and located in Frisch Park (down the hill from the church). You can walk through the real buildings and interact with townspeople, merchants, artisans, animals, and characters from the nativity as your family learns about the city of Bethlehem at the time of Jesus' birth!
When:
Saturday, December 7th, & Sunday, December 8th , from 4:00 – 6:00 p.m.
Where:
The Bethlehem Village will be setup in Frisch Park, at 3640 Cunningham Rd, Killeen, TX 76542. Map is at bottom of page.
Our park is located down the hill from the First United Methodist Church of Killeen, located between FUMC Killeen & Immanuel Lutheran
Church.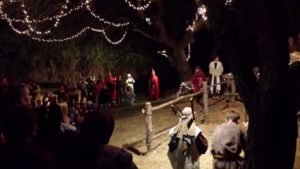 Facebook Event Link:

check Facebook for current updates and information!