Pumpkin Patch 2014 – October 3-31!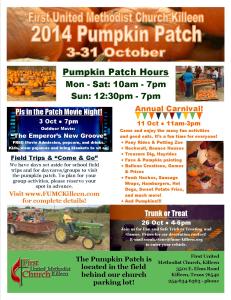 Volunteers Needed!
3-31 Oct ● Mon-Sat 10am-7pm,
Sun 12:30pm-7pm
The Pumpkin Patch can't be run without YOU! Volunteers are needed for a variety of jobs, from sizing/pricing pumpkins, to checkout, to greeting guests. Please contact Kimberly McClish or Sarah Stone for details.
Field Trips and "Come & Go" Days
Do you know of a school or daycare that would love a field trip to the Pumpkin Patch? These groups should be scheduled in advance through Jacque McMohan or Carol Morgan. Field trip times/days vary.
Decorating the Pa

tch
28 Sep ● 5pm
Children & youth ministries, and anyone else who'd like to help, will be decorating the pumpkin patch tonight!
Pumpkinpaloosa:
Pumpkin Unload—1st Delivery
30 Sep ● about 3pm until done
We will be unloading pumpkins and setting up the patch! At 6:15pm, the nursery will open and kids will have art projects or games during this time. Missions Team is cooking dinner for us!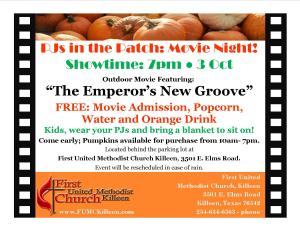 PJs in the Patch: Movie Night
3 Oct ● 7pm
Kids, wear your pajamas, bring a blanket to sit on, and enjoy "The Emperors New Groove" on the outdoor screen, while enjoying free popcorn and drinks!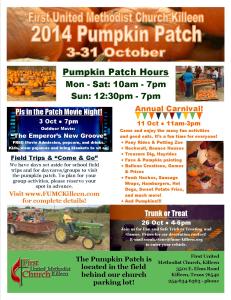 Annual Carnival
11 Oct ● 11am-3pm
Enjoy carnival games, food, bouncy houses and more! Various groups will be hosting tables and games during this event. Stay tuned for details!
26 Oct ● 4-6pm
Fun trick or treating with fantastically decorated cars! Prizes, games, and fun! To register to decorate a car, e-mail sarah.stone@fumc-killeen.org.