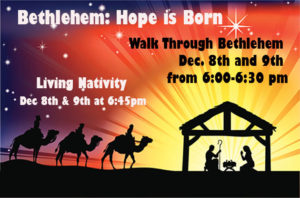 The Walk Through Bethlehem will be held on
December 8th & 9th from 6:00-6:30pm!
During these times, visitors will receive a full tour of the city
of Bethlehem and see just what went on in this amazing city during the time of Jesus.
The actual performances of the Living Nativity will be:
December 9th at 6:45pm
Both events will take place in Methodist Park
off of Cunningham Road.
In order to enter the event, we ask that you provide either a canned food item or a monetary donation per person. All canned food items collected will be taken to the Killeen Food Care Center.