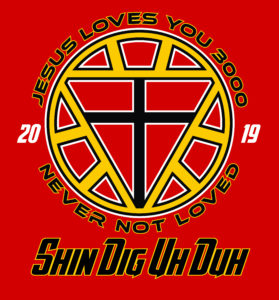 Join us for Shin-Dig-Uh-Duh 2019!!!
The Registration form for the youth can be found at the
This awesome event to
close out the summer will be held
August 6-9, 2019 from 6:00pm to 9:30pm!
This year's theme is: Never Not Loved!
This annual event is open to all entering 6th-12th grade!!!
Cost is $15 and includes a t-shirt, dinner, games and worship!
Payments can be made online by clicking here (simply place the amount you are paying in the box next to Shin-Dig-Uh-Duh and be sure to enter the participant's name).
You are also free to make payments at our church office – cash and checks(made out to FUMC Killeen with Shin-Dig-Uh-Duh in the memo line) will be accepted!
We hope that you will come share your faith story with us
and enjoy the food, fellowship and fun!
We ask that you register by July 29th in order to receive a T-shirt.
After August 1st, the price will be $20.
If you are interested in volunteering or have any questions or concerns, please contact
[contact-form-7 404 "Not Found"]
Please be sure to click here to make payment after registration!