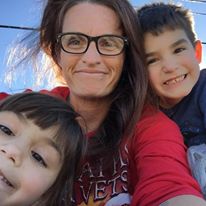 Since joining the FUMC Killeen team in February 2016, Lauren has hit the ground running by working hard to provide our congregation with not only a memorable worship experience, but also a great bulletin to take home each week. She is responsible for publishing the bulletin each week, as well as creating the worship slides for both CDC chapel and all three worship services. Lauren also works to create sermon graphics for each of our sermon series as well as to maintain both the church website and app as well as the Facebook page. As an added bonus, Lauren serves as the Administrative Assistant to Pastors Alan and Alison.
Lauren is part of the Pumpkin Patch Committee, Hope Circle and also works with our children – both littles and youth. She can be found helping at VBS, Shin-Dig-Uh-Duh, and many other functions.
Lauren is a single mom to her little superhero Jefferson, who is 5 and her pretty princess, Rosie, who is 4.
Fun fact – Lauren is a 13 year veteran of the United States Army, where she served proudly as a combat medic.
When she is not working or at school, Lauren can be found on several different local soccer fields running up and down the sidelines as a referee. She also enjoys spending time with her children – whether it be outdoors or indoors. She also enjoys reading and coloring in her adult coloring book.
Lauren's education includes:
B.S., Healthcare Administration – Columbia Southern University – 2010
A.A.S., Information Technology – Central Texas College – in progress – to be completed May 2018
To contact Lauren please call 254-634-6363 or e-mail