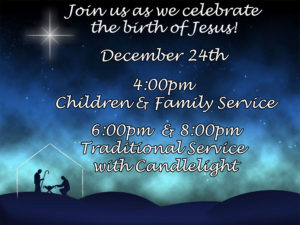 Join us Sunday, December 24th as we celebrate
the birth of Jesus Christ!!!
We will begin our Celebration of Christmas Eve and the birth of Jesus
at 4:00pm with our Children and Family service.
This year, our Children's Ministry Team and our Youth will be presenting a play for our youngest disciples about the Christmas story and Communion will be served as part of the service.
Cookies and milk will be served after the service and each family will receive a small ornament to commemorate this year's celebration of Christ's birth!
At 6:00pm and 8:00pm, join us in the sanctuary for our Traditional Christmas Eve Services with Communion and Candlelight!