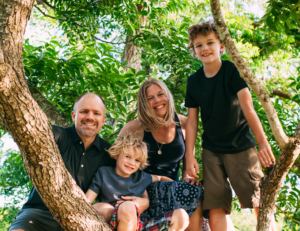 Alan arrived in Killeen in January of 2018 to serve FUMC Killeen. His previous appointments include Hutto Discovery UMC, Brock UMC, Acton UMC, and a church start in Mansfield called Community of Hope UMC. Alan loves to build relationships and work to encourage leaders to be the church for the community. He is a graduate of Brite Divinity School at TCU.
Alan met Traci at the Howdy Barbecue at the Texas A&M Wesley Foundation and they married in 2001 at Glen Lake Camp. A Wesley Foundation choir saw Alan directing and Traci playing piano – the relationship was inevitable. Traci has a heart for teaching and all of God's creatures. She founded Treehouse Learning Community in 2012 offering classes for homeschool families in the Georgetown area.
The McGrath children are Pax and Beckett. Pax is a baseball player and can school his dad in Xbox. Beckett knows more about insects than most adults.
For fun, the family can usually be found on a camping trip to a Texas State Park or attending a music festival. Some of their favorite family nights include pizza and one of dad's favorite 80's movies.