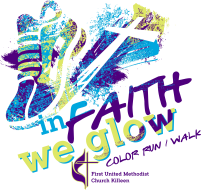 5th Annual In Faith We Glow Walk
It's that time of year yet again – so much fun
was had last year!!!!!
Let's do it again!!
FUMC Killeen is excited to be hosting our 5th annual COLOR run/walk!
The COLOR run/walk will take place on Saturday, May 18 at 9:00am at the Andy K. Wells Hike & Bike Trail in Killeen. It will be a 2 mile walk or you can do a shorter walk if you like. THIS IS NOT A TIMED EVENT!!
Registration is $20 by April 15th and includes a cool white shirt to get all colored-up in, sunglasses, one individual color powder to get the color walk started and LOTS OF FUN AND COLOR on the course!
April 16th the price increase to $25 SO REGISTER EARLY. Because we need to order shirt sizes in advance, T-shirts will not be guaranteed after May 3rd. We will order a few extra in different sizes. (there is a small fee added when paying online). If you want to pay by check or cash you can stop by the office at FUMC Killeen, 3501 E. Elms Rd.
The event is open to ALL ages, ALL sizes and ALL shapes. Bring the whole family and friends and Walk, Run, Jog, Bike, Walk your dog on a leash, Push a stroller, Pull a wagon or Dance your way through 2 miles of the Hike and Bike Trail. We will throw in the color and the fun! With registration you'll receive a white t-shirt for catching the color and sunglasses for shielding your eyes. There will be color stations throughout the run and powder will be in the air so bring a hat if you wish. Just come and have fun with us! If you don't want the color, you can still come walk with us…just avoid the color stations around the course.
All proceeds benefit FUMC Killeen and FUMC Killeen Youth. Additional donations are always welcomed to support the missions of our church.
We are able to keep our cost down for this walk due to the great sponsors that we have every year! WANT TO BE A SPONSOR? Email gdremorrisontx@hotmail.com or call Debbie at 254-702-3818 if interested. Sponsors receive their name on the back of the shirt, on the race website and Facebook page. You can be a company, group or a family sponsor and show your support for FUMC Killeen. You can pay online with debit/credit card on this page or pay by check or cash by stopping by the office at FUMC Killeen at 3501 E. Elms Rd. Your support is greatly appreciated!