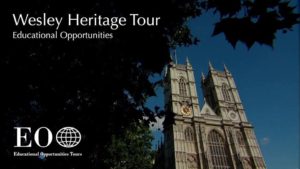 Bishop Lowry and Pastor David Anderson, along with the Central Texas Conference of the United Methodist Church, are offering a tour of John Wesley's England from August 6-14th, 2019.
"This will expand your knowledge of the ministry of John Wesley. This will also help to clarify the whole picture of where he had been and where he was going."
If you are interested, please click the link below to view the information brochure and the registration form. If you sign up by September 6th, 2018, there will be a $150 discount. There will be a $125 discount for registration in October and a $100 discount in November.
If you have not traveled with the bishop before, you will be in for an incredible faith experience. There will be devotionals and information on each site visited, and you will develop wonderful friendships along the way.