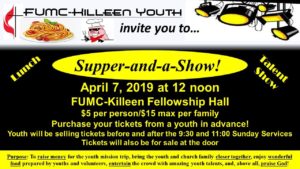 Our youth will once again be serving lunch and performing for the congregation on April 7th at 12pm in the Fellowship Hall!
Tickets are $5 per person with no family paying more than $15 and can be purchased from the youth on Sunday mornings or ordered via the form below. If you choose to order online, money will be due upon receipt of the tickets.
All money raised will benefit the Youth Mission Trip in June.
We hope that you will come out and enjoy food, fellowship and fun with us!