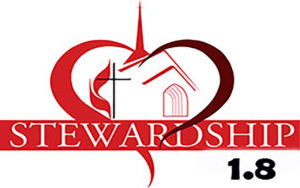 Today we ask you to pray!
We ask you to pray about giving your time, talent
and treasures to the Church.
In the pages of the bulletin insert are some of the Ministries that change peoples' lives. These Ministries are only possible when you give your time, talent and treasures. I ask that you start with prayer. Pray about your commitment to God's church and the mission to make new disciples for the transformation of the world. As you pray about your giving, think of the comfort you receive just knowing the church is here for you, praying for you, increasing your faith, confirming your hope
and perfecting you in love.
Our goal is to raise 1.8 million dollars in 2017. This will provide for all of our ministries, our mortgage and enable us to reduce our debt principle by an additional $100,008.
God bless you for your continued love of your church.
P.S. In 2016, the church received approximately $1.493 million in tithes, offerings, fees and Child Development Center tuition.
Please click here to see testimonials from members of the congregation regarding stewardship and their giving practices!