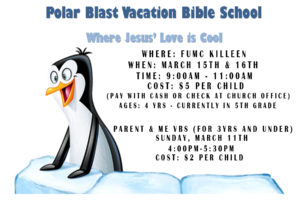 Click here to register today!!!
Looking for something for your child (ages 4 to currently in 5th grade)
to do during Spring Break?
Well, we have a perfect opportunity for you to take care of that –
When: March 15th & 16th from 9:00AM-11:00AM
Cost: $5 per child (Pay with cash or check at the church office!)
For our smallest disciples ( those 3 and under), there will be a Parent & Me VBS on Sunday March 11th from 4:00-5:30PM in the Fellowship Hall!
The cost will be $2 per child and the parents or guardians are required to attend with the children!
Click here to register today!!!