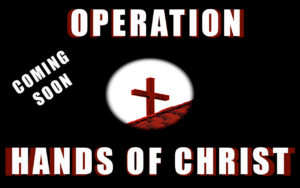 The next opportunity to join with us as we become the "Hands of Christ" in our local community will be announced soon!
Please contact the church office
at 254-634-6363 in order to get the address
where we will be working.
You can make a difference in our community!
What is Operation: Hands of Christ?
Operation: Hands of Christ is a unique opportunity we have been given to make a difference in our Greater Killeen Area. It will involve sending volunteers to 2 different work sites and helping those in need with some vital fixes to their homes.
What specifically will I be asked to do at these sites?
We will be building wheelchair ramps for two members of our community. You may be asked to aid in the construction of the ramp or help by providing water or snacks to other volunteers.
What ages can participate?
Adults and Children who have graduated from 5th grade through high school can participate.
What if I have a child younger that would like to help?
Children younger than graduated 5th grade can still make a difference by handing out water and food. Contact April LaValley to sign up to help with food and drinks.
What tools/supplies do you need and how do I drop them off?
We are in need of saws, hammers, nails, screws, plywood, levels, tape measures, bags of concrete, pliers, screwdrivers (Phillips and Flathead), power washers and more. If you can't imagine doing a home improvement at your house with a certain tool, then we most definitely need it!!
All tools that are on loan, should be brought to the church with your name clearly labeled on it if you would like it back. We will ask you to sign in all loaned tools so that we can make sure you get them back.
I want to help but I have no tools to loan and I can't come volunteer at all that week?
We understand that not everyone has tools or time to volunteer this week. If you would like to participate, but are unable to, please donate money to help us offset building supplies. Money may be dropped off to the church office M-TH, 8am-5pm, F, 8am-2pm, and Sunday during worship services. Money placed in the offering plate should notate: Hands of Christ on the envelope or the check memo line.
I still have questions, who should I contact?
If you still have questions, please contact either Pastor Alison or Sarah Stone. You may call the church office at 254.634.6363 to speak with them or e-mail them at:
Alison.Zollinger@fumc-killeen.org or Sarah.Stone@fumc-killeen.org
When we help others out, we are being the hands and feet of Jesus!
Join us as we make a difference in the Killeen Area!