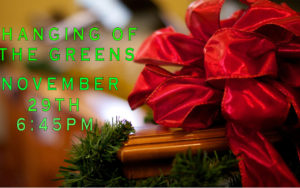 You may be thinking – "What exactly is the Hanging of the Greens?"
Well, let us tell you – it is a service to prepare for Christ's coming at which we hang different types of greenery that all have different meanings:
– Cedar represents royalty.
– Fir and Pine Boughs represent everlasting life.
– Holly represents Jesus' death.
– Ivy represents the resurrection.
We invite you to join us on November 29th at 5:30pm for a Soup and Salad supper provided by our awesome Radical Hospitality Team!
After you enjoy the wonderful food, come join us in the Sanctuary at 6:45pm for the Hanging of the Greens Service!!!!