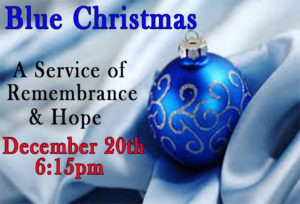 You may be thinking to yourself,
"What exactly is the Blue Christmas Service?"
Well, let us explain – The holidays are a time of cheer and glee for many people. However, not everyone feels that way due to something they are dealing with in their lives – it could be the death of a loved one, a separation or a divorce, the loss of a job, a disease that is life threatening or a number of other situations that we as humans face in our daily lives. Thus, the Blue Christmas service is a time to reflect, remember and to work on accepting that God is with us as we deal with these situations.
This service is held near the Winter Solstice, which is the longest night of the year, which is also the feast day of Saint Thomas the Apostle. This link allows us to make connections between Thomas's struggle to believe that Jesus did indeed resurrect from the dead
and the struggles that those who are suffering may be facing.
If you are suffering in any way, we invite you to join us on December 20th at 6:15pm for our Blue Christmas service !