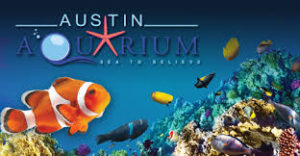 Join us for this awesome trip to the Austin Aquarium followed by a picnic and playtime at Zilker Park on July 10th!!
We will leave the church at 8:30am in order to be at the Aquarium when it opens at 10 AM. We will ride in the church van – and will take other vehicles if needed – depending on the number of people who go!
Once we complete our tour there, we will travel to Zilker Park for food, fellowship and fun! On our way to the Park, we will make a stop at "The Picnic", where food trucks are available with food for purchase or you are welcome to bring your own!!
Visit https://www.thepicnicaustin.com/ to learn more about the food trucks that will be available so you can decide what you want to eat!
Once everyone has their food, we can head down to the Zilker Park Picnic Area to enjoy our meals and the kids will be able to run around and play!
If you and your family plan to attend, please visit
https://kideventpro.lifeway.com/myChurch/?id=41115