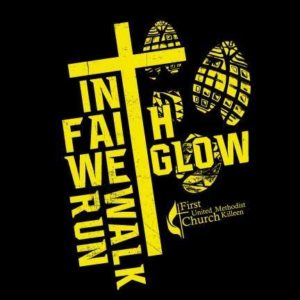 4th Annual In Faith We Glow Walk
It's that time of year yet again – so much fun
was had last year!!!!!
Let's do it again!!
The date is set for our 4th annual "In Faith We Glow" Fun Run/Walk – Saturday, May 19th at 7pm.
This year, we will be letting our faith glow at a NEW LOCATION! So, come on out to FUMC Killeen
(3501 Elms Road, Killeen, TX 76541) and join us!
Are you ready to get your glow on!?!?!?!
First United Methodist Church Killeen invites you to join us for our 4th Annual "In Faith We Glow" fun run/walk at FUMC Killeen (3501 Elms Road, Killeen, TX 76541) on Saturday, May 19th starting at 7:00pm. EVERYONE is welcome to participate! We had so much fun glowing, walking running, singing and taking pictures with the cool life size photo frames!
COME OUT AND LET YOUR FAITH GLOW!! We will be walking and "glowing in the dark" on a 1 mile paved/trail course that ends at our beautiful Methodist Park. This will not be a timed event. Use your imagination to "glow" yourself, your strollers, even your animals on a leash! Yes strollers and controlled and non-aggressive pets on a leash are welcome. Anyone not feeling comfortable with walking the trail, we will have transportation to take you to the park if needed.
Does it cost to participate?
*Entry fee is $20 per walker/runner and includes a dri-fit shirt and access to the glow table if registered by May 7th!! Only those registered by May 7th will be guaranteed a shirt with their registration. Starting May 8th, the fee is $25 per walker/runner, so REGISTER EARLY!! **There is a small service fee added to each online registration.
Paper registration forms are also available on this site or by stopping by FUMC Killeen, 3501 E. Elms Rd, Killeen.
**Additional donations are welcomed for our capital campaign**
NOTE: Only registered participants will receive a shirt.
Shirt sizes are Youth medium, Youth large and Adult S – XXXL.
Where does the money go?
All proceeds will benefit the FUMC Killeen "In Faith We Grow" Capital Campaign to reduce our debt.
Where is the Walk/Run going to be?
First United Methodist Church – Killeen
What time will the walk/run begin?
How long will it last?
Walkers/Runners will begin at 7:00pm and the event ends at 8:30pm.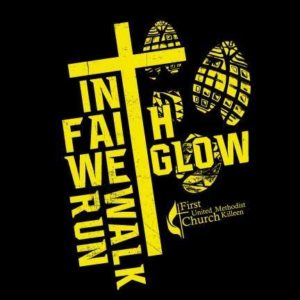 Yes, t-shirts will be given to all registered participants.
The design for this year's shirts has not yet been revelead!!!
Shirt sizes are Youth Medium & Large, and Adult S-XXXL.
Details on early shirt pick-up will be posted closer to the event!
I would like to help sponsor this event.
Who should I contact?
WE NEED SPONSORS! If interested contact Debbie Morrison at 254-702-3818 or gdremorrisontx@hotmail.com.
Sponsor logos will be put on the back of the race shirts.
I still have questions. Who should I contact?